The thrill of personalizing your vehicle is unmatched, especially when you own a versatile beast like the Jeep Patriot. Whether you're eager to explore off-road terrains or seeking to make a statement on city streets, upgrading your vehicle with aftermarket parts is an excellent way to enhance your Jeep's capabilities and aesthetics. This guide will walk you through the process, from choosing lift kits to installing LED lights.
Picking the Right Aftermarket Parts
Firstly, consider what you want to achieve with your upgrades. Are you seeking improved off-road capabilities, enhanced aesthetics, or both? Some popular upgrades for the Jeep Patriot include:
Lift kits: These add ground clearance, making the vehicle more capable off-road.
LED lights: These provide better visibility at night and add a modern, sleek look to your vehicle.
Aftermarket wheels and tires: Larger wheels and rugged tires can improve off-road performance and dramatically change the look of your vehicle.
Performance exhaust systems: A new exhaust can improve engine efficiency and gives your Jeep a more aggressive sound.
Installing Lift Kits
A lift kit is a perfect choice for those looking to tackle off-road adventures. By increasing your Jeep Patriot's ground clearance, a lift kit helps navigate challenging terrains without the fear of damaging the undercarriage. Installation should always be handled by a professional to ensure safety and correct alignment.
Upgrading to LED Lights
LED lights are a must-have for any modern vehicle, offering better visibility and a longer lifespan than conventional bulbs. They're also energy-efficient, helping to conserve your Jeep's battery life. Most LED light kits come with step-by-step instructions for installation, making it a relatively simple DIY task. However, professional installation is recommended for more complex setups.
Lighting is a crucial factor for any vehicle, but when you're taking your Jeep Patriot off-road or driving in low-light conditions, visibility becomes even more essential. Enter LED headlights: a potent and energy-efficient lighting option that not only enhances your vehicle's aesthetics but also improves safety. Let's delve into the world of LED headlights and light bars for your Jeep Patriot.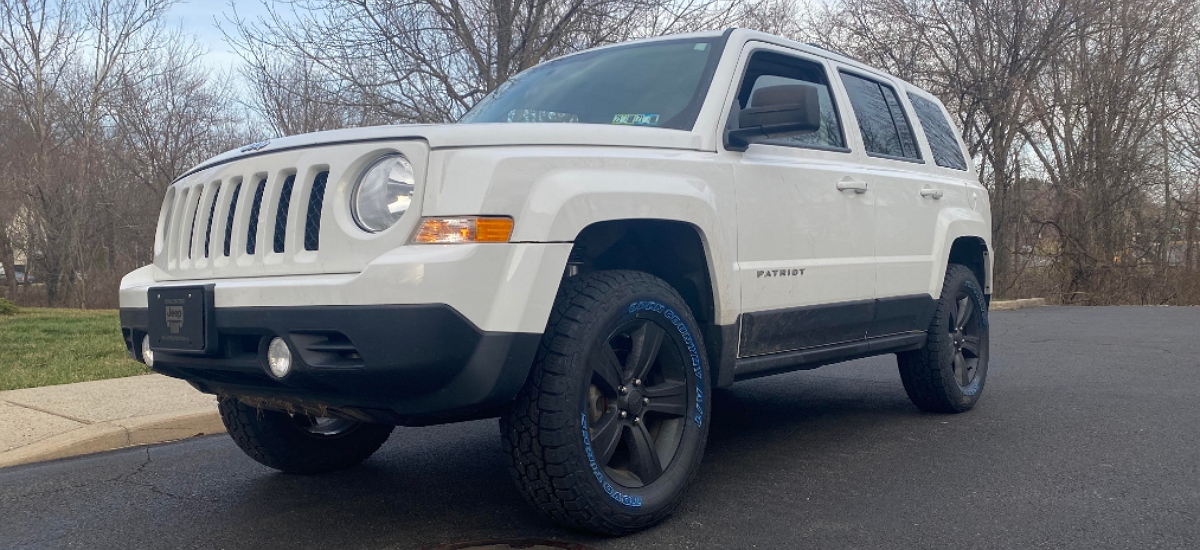 Top LED Headlight Options for Your Jeep Patriot
Choosing the right LED headlights involves considerations such as brightness, color temperature, and brand reliability. Here are some top options:
XKGLOW LED Headlights: These are known for their incredibly bright and clear light. They offer plug-and-play installation and come with a built-in fan for heat dissipation.
Auxbeam LED Headlights: These headlights offer a balance of performance and affordability. They also boast an impressive lifespan and a built-in cooling system.
Philips X-tremeUltinon LED: These are premium options, offering excellent brightness and a cool, white light for enhanced visibility. Philips is a well-respected brand in the automotive lighting industry.
Installation Process
Installing LED headlights and light bars on your Jeep Patriot can be a DIY project if you're handy with tools. It typically involves removing the existing headlights, installing the new LED units, and connecting the wiring. However, if you're not comfortable handling these tasks, it's best to seek professional help to avoid potential damage.
Light bars often require mounting brackets for installation, with the process varying based on the specific light bar design and the vehicle model. It's also important to wire your light bar correctly to avoid draining your battery or damaging the light bar itself.
Purchasing Considerations
When purchasing LED headlights or light bars, several factors come into play:
Compatibility: Make sure the headlights or light bars are compatible with your Jeep Patriot model year.
Brightness: Look for a lumens rating, which indicates the brightness of the lights. A higher lumens rating means brighter light.
Lifespan: LED lights are known for their longevity, but this can vary among brands. Check the rated lifespan before purchasing.
Brand Reputation: Stick with reputable brands to ensure quality and reliability.
Installation: Consider whether you're comfortable with DIY installation or if you'll need professional assistance.
As automotive visionary Enzo Ferrari once said, "The fact is I don't drive just to get from A to B. I enjoy feeling the car's reactions, becoming part of it." With the right LED headlights and light bars on your Jeep Patriot, you'll feel even more connected to your vehicle and the road (or trail) ahead. Make sure to choose the right product for your needs and, if necessary, seek professional help for installation. Bright trails ahead!

Choosing Aftermarket Wheels and Tires
When it comes to wheels and tires, bigger isn't always better. Large wheels can enhance off-road performance, but they may also put extra strain on your Jeep's suspension and reduce fuel efficiency. A professional can guide you toward the best wheel and tire combination for your specific needs.
Opting for a Performance Exhaust System
A performance exhaust system can improve your Jeep's power output, fuel efficiency, and sound. Installation should be performed by a professional to ensure proper fitment and performance.
Revamping the exhaust system in your Jeep Patriot can be a significant step toward optimizing performance and enhancing your vehicle's unique sound. But before diving into this upgrade, it's essential to understand your options and the ins and outs of installation and purchase.
Unearthing the Best Options
When choosing a performance exhaust system, you should consider factors such as material, type, and brand. In terms of material, stainless steel is a popular choice due to its durability and resistance to corrosion. Aluminized steel is another option that's typically more affordable, but it doesn't offer the same level of durability.
There are several types of performance exhaust systems that can fit your Jeep Patriot:
Cat-Back Exhaust Systems: These replace the exhaust components from the catalytic converter back to the muffler, hence the name "cat-back." These systems can increase horsepower and torque and often provide a more aggressive exhaust note.
Axle-Back Exhaust Systems: These replace the components from the rear axle to the muffler. While the performance gains aren't as significant as with cat-back systems, axle-back systems can still improve your vehicle's sound and appearance.
Header-Back Exhaust Systems: These replace everything from the exhaust headers back. They offer the most significant performance gains but are also the most expensive and complicated to install.
Some of the top brands to consider include MagnaFlow, Borla, and Flowmaster. Each brand offers unique advantages in sound, performance gains, and aesthetic appeal.
Installation Process
Installing a performance exhaust system is a job for professionals. The process generally involves removing the old system, checking the new system for any shipping damage, and then installing the new system with the supplied hardware. Depending on the type of system and the specific vehicle, installation can take anywhere from one to four hours.
Purchasing Considerations
When you're ready to purchase a performance exhaust system, you need to consider your budget, desired performance gains, and the sound you want. Make sure to read reviews and do your research before making a decision. Compatibility with your specific model and year of Jeep Patriot is also critical.
Remember, "Auto racing began five minutes after the second car was built," said Henry Ford. While your Jeep Patriot may not hit the racetrack, an upgraded exhaust system can give you a taste of that performance thrill every time you hit the road.
As the great innovator Nikola Tesla once said, "The present is theirs; the future, for which I have really worked, is mine." This is your opportunity to shape the future of your Jeep Patriot, transforming it into the vehicle you've always dreamed of. Enjoy the journey!