2010 Jeep Patriot Bulb Sizes
The 2010 Jeep Patriot comes equipped with a robust lighting system, designed for both functionality and style. This system plays a crucial role in ensuring safety and visibility, whether you're navigating city streets or exploring off-road trails. The lighting setup includes headlights, tail lights, and various signal lights, all integrated into the Jeep's sleek yet rugged design.
Headlights: Your Guide in the Dark
The headlights in the 2010 Jeep Patriot are vital for your night-time visibility. They are designed to provide a broad and powerful beam, illuminating the road ahead effectively. When it comes time to replace these headlight bulbs, the process is pretty straightforward. The Patriot typically uses H13 bulbs, known for their dual high and low beam capabilities. When choosing replacement bulbs, look for ones that offer longevity and brightness. Brands like Osram or Philips are often recommended for their reliable performance. Replacing the bulbs involves accessing the headlight assembly, usually from behind, and carefully swapping out the old bulb for the new one. Always remember to turn off the vehicle and headlights before starting this process.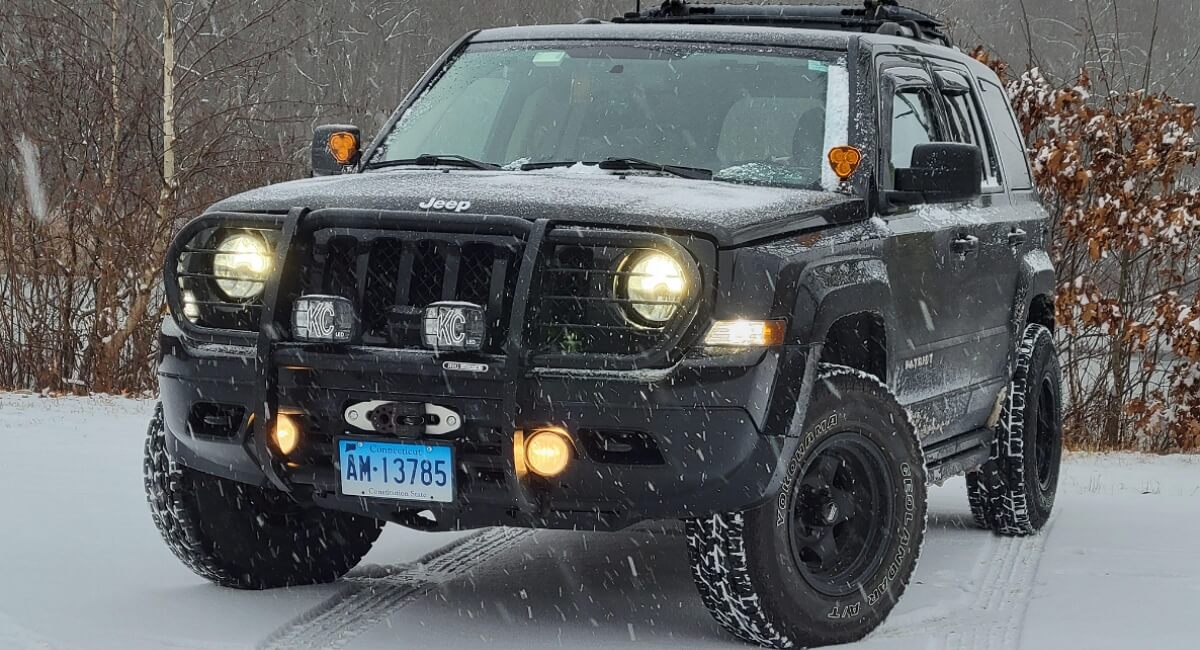 It's also a good practice to check the alignment of your headlights. Adequately aligned headlights not only improve your night vision but also ensure that you don't blind oncoming drivers. This can usually be done at home with simple tools and a guide, or you can have it checked and adjusted during your regular vehicle service. Remember, taking care of your Jeep Patriot's lighting system is not just about compliance with road safety regulations; it's about ensuring your safety and that of other road users.
Bulb Sizes of 2010 Jeep Patriot
| Year | Bulb Function | Bulb Size | Notes |
| --- | --- | --- | --- |
| 2010 | High/Low Beam Headlight | H13 | |
| 2010 | Front Fog Light | H10 | (2007-2009) |
| 2010 | Back-Up Light | T15 | |
| 2010 | Brake Light | T25 | (2011-2017) |
| 2010 | Dome Light | C5W 31MM | |
| 2010 | Front Side Marker | T25 | |
| 2010 | Front Turn Signal | T25 | |
| 2010 | License Plate | T10 | |
| 2010 | Parking Light | T25 | |
| 2010 | Rear Side Marker | T25 | (Exclude 2009/2012/2015) |
| 2010 | Rear Turn Signal | T25 | |
| 2010 | Tail Light | T25 | (Exclude 2013) |
| 2010 | Luggage Compartment | C5W 31MM | |
| 2010 | Map Light | C5W 31MM | |
Troubleshooting Lighting Issues
If you encounter issues with your 2010 Patriot's lighting, there are a few things to check. Dimming or flickering lights can often be traced back to the bulb itself. If a new bulb doesn't solve the issue, then it could be an electrical problem, like a worn-out fuse or a faulty wiring connection. Corrosion inside the light assembly is also a common culprit, especially in vehicles that have seen a lot of use or exposure to harsh conditions.
In the 2010 Jeep Patriot, the tail lights play a crucial role in safety, especially during night driving or adverse weather conditions. They ensure that your vehicle is visible to others from the rear, reducing the risk of accidents. Along with the tail lights, signal lights, including turn signals and brake lights, are key for communicating your intentions on the road. These lights typically use standard bulbs like the T25, known for their durability and brightness. It's important to regularly check these lights for any signs of dimming or failure, as they are vital for safe driving.
Optimizing Visibility with the Right Bulbs
When it comes to optimizing visibility, the choice of bulbs in your lighting system is paramount. For the 2010 Patriot, LED bulbs can be a great upgrade from traditional halogen bulbs. LEDs are known for their longer lifespan, better energy efficiency, and brighter illumination. However, it's important to ensure compatibility with your vehicle's electrical system, as some older models might require adjustments to accommodate LED technology. Always opt for high-quality bulbs, as they offer better performance and reduce the likelihood of frequent replacements.
Maintaining Your Lighting System
Maintaining the lighting system of your Jeep Patriot is key to ensuring its longevity and functionality. Regularly cleaning the headlight and tail light covers can significantly improve light output. Over time, these covers can become cloudy or yellowed, which diminishes their effectiveness. Simple restoration kits are available to bring back the clarity of these covers. Additionally, ensure that your headlight alignment is correct. Misaligned headlights can impair your vision and potentially blind oncoming drivers. This adjustment can be done at home with basic tools or by a professional during a routine vehicle check-up.
It might be wise to consult a professional for electrical concerns beyond simple bulb replacement. They can help diagnose and fix issues that might be more complex. Regular maintenance checks can also help catch these problems early, ensuring your Jeep Patriot remains well-lit and safe on the road.