2009 Jeep Patriot [Exterior & Color Codes]
The 2009 Jeep Patriot stands as a beacon of robust elegance and functional design in the automotive world. It's a vehicle that blends the adventurous legacy of Jeep with contemporary needs, making it a favorite among SUV enthusiasts. In this comprehensive look, we focus on the exterior design and color codes of the Patriot, elements that are pivotal yet often overlooked. These aspects are not just about aesthetics; they represent a harmonious fusion of form and function, mirroring the adventurous spirit of the Patriot's drivers. From its structural integrity to the vibrant color palette, each detail of the Patriot's exterior resonates with the brand's commitment to quality and style.
Structural Design and Build
The Jeep Patriot of 2009 exemplifies structural robustness paired with graceful design. Its build quality is a testament to Jeep's enduring commitment to durability, designed to withstand time and diverse terrains. The vehicle's dimensions are a thoughtful blend of spaciousness and sleekness, making it an ideal choice for both off-road adventures and urban navigation. The Patriot's design perfectly balances rugged strength and aesthetic appeal, catering to a wide range of drivers.
Color Codes [2009 Patriot Sport]
Below is the chart of the color codes for the 2008 Jeep Patriot. So whenever you need to purchase a painted body part or need to paint your vehicle, make sure to pick the correct paint.
Color Codes and Their Meanings: More Than Just Shades
In the world of automobiles, color is more than a visual choice; it's an expression of personality and style. The 2009 Jeep Patriot offers a palette of colors, each with its unique code and significance. These colors are carefully selected to complement the vehicle's design and appeal to a wide range of preferences. Understanding these color codes is not just about aesthetics; it's about the personality and image the vehicle projects. For instance, a bright color might reflect a more adventurous and bold personality, while a darker shade could signify elegance and sophistication. These color choices also play a role in the vehicle's visibility and maintenance, with some colors being more prone to showing dirt and scratches than others. The variety of colors available for the Patriot allows owners to choose a hue that best suits their style and lifestyle needs, making each vehicle uniquely theirs.
Color Codes [2009 Patriot Rocky Mountain]
Signature Aesthetic Features
At the heart of the Patriot's design lies Jeep's iconic design philosophy. The famous grille and the vehicle's bold stance are more than just aesthetic choices; they are emblematic of the brand's rich heritage. These design elements serve a dual purpose: they enhance the vehicle's visual appeal while representing its all-terrain prowess. Each contour and line on the Patriot is a reflection of Jeep's meticulous craftsmanship, setting it apart in the SUV category.
Color Codes: Reflecting Personality and Style
The color palette of the 2009 Jeep Patriot is a vivid expression of individuality and style. Each color choice, accompanied by its unique code, is carefully selected to complement the vehicle's robust design and to cater to diverse preferences. The range, from earthy tones to vibrant hues, offers owners the chance to personalize their Patriots, making each one a reflection of its owner's personality.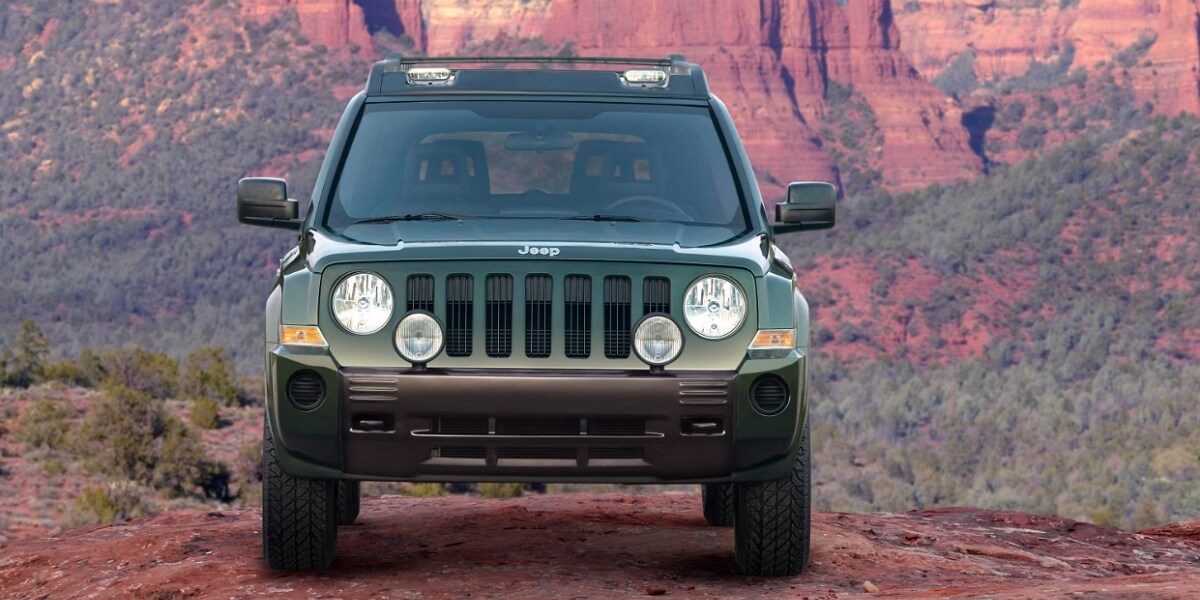 Variety and Significance of Color Choices
Jeep's color selection for the Patriot extends beyond mere aesthetics; it's about creating an emotional bond between the vehicle and its owner. Colors like the deep Inferno Red or the subtle Light Khaki Metallic are not just visually appealing but are chosen for their ability to convey different personalities and lifestyles.
How Color Reflects Personality
The color of a Jeep Patriot is more than a surface choice; it's a statement. A bright Sunburst Orange might reflect an adventurous and energetic spirit, while a more subdued Stone White might appeal to those who prefer understated elegance. This choice of color is a subtle yet powerful way for owners to express themselves through their vehicles.
Exterior Materials and Longevity
The exterior of the 2009 Jeep Patriot is designed with longevity in mind. The use of high-quality materials ensures that the Patriot not only looks good but also withstands the rigors of time and use. The body panels are crafted to resist corrosion and wear, a testament to Jeep's focus on lasting quality.
Resistance to Environmental Factors
Jeep understands that an SUV like the Patriot is often exposed to harsh environmental conditions. Therefore, the vehicle is equipped with features like protective coatings and high-quality paint that resist fading and damage from the elements. This focus on durability ensures that the Patriot retains its aesthetic appeal for years.
Customization and Personalization: Making it Your Own
The 2009 Jeep Patriot offers extensive options for customization, allowing owners to tailor their vehicles to their tastes. From exterior accessories to custom paint jobs, the possibilities for personalizing a Patriot are nearly limitless. This section would delve into the most popular customization trends and options available for the Patriot, showing how owners can make their vehicles uniquely theirs.
Maintenance and Care: Keeping Your Patriot Pristine
Proper maintenance is key to preserving the exterior of your Jeep Patriot. Regular washing and waxing play a crucial role in maintaining the paint's luster and protecting it from environmental damage. It's important to use products specifically designed for automotive use to prevent harm to the paint and finishes. Paying attention to the undercarriage and wheel wells is also crucial, especially in areas prone to rust. Periodic inspections for scratches and dents can prevent minor issues from becoming major problems. Using protective coverings like car bras or window deflectors can help reduce wear and tear from road debris and the elements. For those living in harsh climates, extra steps like applying a protective sealant or using a car cover can provide additional protection. These care tips not only keep your Patriot looking great but also help in retaining its value over time.